Welcome to Solutions Hypnotherapy
Established in 2006 we work with clients who are committed to positive change, using Solution Focused techniques that help bring about the changes you want in your life.
We understand that you may have questions about Hypnotherapy and so on our website we have provided as much information as possible so that you know a little more about what to expect and you can make an informed decision as to whether Hypnotherapy is the solution you are looking for.
At Solutions we are committed to your personal well being and aim to help you overcome any dificulties you may have. At times modern life can become stressful and we suddenly find we're anxious, nervous or angry, we're not always aware of the effect stress is having on our lives until we realise we can't cope anymore.
Perhaps you are finding it hard to deal with life's challenges maybe have difficulties sleeping, or feelings of anxiety or low moods, just not quite yourself. Maybe you are struggling with a specific fear or phobia, or want help overcoming a habit such as smoking or need help to get your weight under control.
Sometimes a specific time in our lives adds uncertainty and additional stress such as during pregnancy, Hypnotherapy can provide a calming pleasant way to help overcome your fears and anxiety and help you take control and achieve the birthing experience you want.
Solution focused hypnotherapy can help deal with any of these issues and many more...whatever you wish to achieve.
Please browse through this website and if you are ready to make the changes you want in your life and want help please contact me in confidence I would be delighted to answer any questions you may have.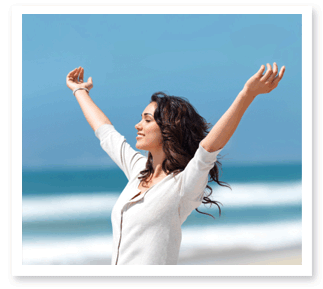 "Life isn't about finding yourself, it's about creating yourself."

George Bernard Shaw
It is really important that you feel comfortable during the sessions and that we are able to work together to achieve the changes you want in your life I therefore offer a free consultation so that you can make sure that I am the best hypnotherapist to help you. Also please have a read about me on the about Alison page of the website.
During the free initial consultation I will obtain information from you as to how you would like me to help and I will explain how your brain works, helping you to understand why you are feeling the way you do and looking at how you can find and work towards the solutions you would like. Also I will explain more about the research that shows the benefits of combining this therapy with the total natural state of hypnosis.
All future sessions will be a combination of solution focused therapy, looking at how you wish to move forwards and hypnosis, leaving you feeling relaxed and solution focused.
For a quick insight into what to expect from hypnosis have a read on the website, "What hypnotherapy is...and what it isn't"